For this post I thought I'd tell you about my addictions in life. Everyone has them, whether its Justin Bieber or Scary Movies, one of mine is pretty obvious considering the title of my blog...its coffee!
I seriously cannot get enough of it, although it comes with a consequence, not the whitest of teeth I don't think I can give it up! One of my favourite coffee shops is Caffe Nero; it does the best food, coffee and frappes (milkshakes) in the world. I love to go in there with my sister and catch up on some good old gossip.
-----
My next addiction is make-up, I like it natural but I cannot go out somewhere with a risk of people I know seeing me, without a but of mascara on. I have tried too many mascaras and all of them seem to be the same. I did find one excellent mascara and that's called Skyscraper by Collection 2000, but due to my unfortunate eye allergy's I had to quit using that ): It gave me a very spaced out long lash effect, and I would defiantly recommend using it to other people, I know I stole it from one of my friends because it looked so good!
There is nothing like finding make-up that works for you and I have recently tried out the MUA Matte Foundation for myself, only because I had run out of money and considering it was only £2 I thought it was quite a good idea! And it turned out to be a very good buy! It gave me a even coverage and was nearly bang on my skin colour, although I must admit it did to last for too long, a school day maybe but not from dawn till dusk.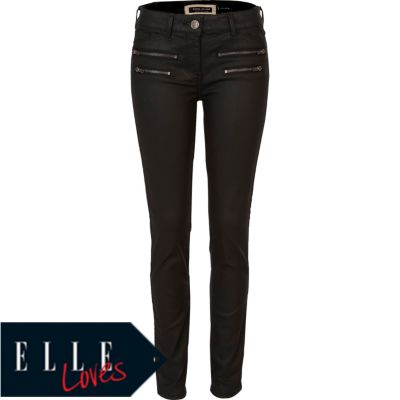 I recently brought the jeans above from River Island for £40 and I have got to say I love them! They are really edgy but very nice to wear up or down. I have become obsessed with wearing them everywhere I go!
I have also recently brought these pair of heeled lace up boots from Barrats for £52 and I love them too! They go excellently with my new jeans a leather jacket...I think that's next on my list!
Until next time
Aimee
x